Tony is a highly versatile speaker with a reputation for delivering tour de force, key note speeches at major conferences, as well as more intimate contributions for smaller company events, workshops and seminars. Tony's ability to captivate his audiences can be powerfully applied to cover all aspects of sales, client service and sales management.
Tony's first major speech was to the MDRT Annual Meeting in 1983. Speaking at the MDRT Annual Meeting is usually the high spot of a speaker's career. For Tony it was just a start. He was told if he spoke well he could be in demand for five years. Now after 40 years demand for his uplifting message is greater than ever.
His aim wherever he speaks is to pass on transferable ideas whilst stimulating each member of his audience to believe they have not yet reached their potential. He illustrates his talks with stories of successes and failures from his more than 50 year career. He believes what we learn from our failures is just as important as the lessons from our successes.
His philosophy is simple. He believes there are few extraordinary people in this world – only ordinary people who achieve the extraordinary through determination, belief and self discipline.
Unlike so many on the professional speaker circuit, who are quick to tell us how to do what they have never done, Tony absolutely has walked his talk. After hearing Tony speak, audiences start to believe that they, too, can set higher goals and achieve greater results.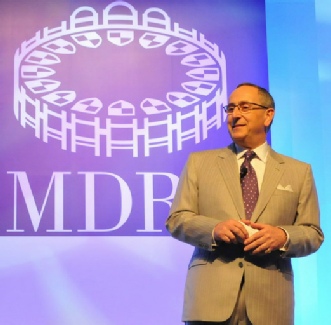 "Tony goes to the heart of the selling process - it is fascinating to see revealed his most vital secrets"

"Tony is one of the superstars. His sales concepts are basic and transferable. They will increase the productivity of anyone who embraces them"

"Tony is a one-off. Simply he is one of the best business motivators of his generation. He inspires the courage that allows people to achieve their ambitions"

"Tony is one of this industry's best, most inspiring speakers. Always accessible and relevant he holds an audience in the palm of his hand"